The Internet is all a buzz about today's official launch of Victoria Beckham's collab with Target. Victoria Beckham is no stranger to fashion--quite the opposite for those of y'all who've been sleeping under a rock. She is a modern day style icon for her sleek, polished style that displays a who's who of high fashion. So when she announced a collab with Target, it took everyone by surprise. I myself was a little apprehensive because Victoria is a very small women and most collabs with Target leave plus size women in the cold. So what is my take on the line as a whole? Keep scrolling.
Top Girl's picks: Pick #1 | Pick #2 | Pick #3
Short story? I LOVE THIS LINE!!! It is definitely a more polished collab than I was expecting. Not because of Victoria but because of Target (I'm looking at you AVA and VIV). The overall vibe is sleek mod hippy chic and the plus section does not disappoint. Let's break this down.
Top Women's Picks : Pick #1 | Pick #2 | Pick #3 | Pick #4
Women's/girl's line: There are many different offerings for every type of style from minimalist to quirky. She has a nice balance of color and classic black. I also like the cuts. I'm glad she pushed sheath dresses hard. It is a very flattering silhouette on virtually all body types. A smart move if you are wanting the clothes to be accessible for all shapes and sizes.sizing goes up to size 16, which I think should be standard. I give it a solid 8.5.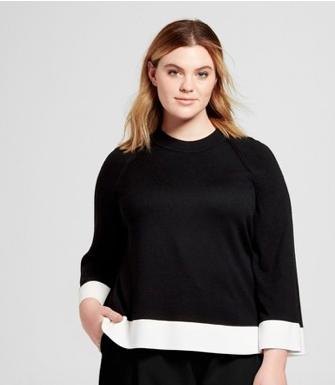 Plus Top Picks: Pick #1 | Pick #2 | Pick #3 | Pick #4
Plus Sizes: Let's give sis a hand clap real quick. She literally took silhouettes from the main womens line and just did a larger scale form for plus size women. WHAT A NOVEL IDEA: GIVING PLUS SIZE WOMEN THE SAME CLOTHES AS SMALLER SIZES. WHO WOULD HAVE THOUGHT PLUS SIZE WOMEN ARE WOMEN TOO? *insert sarcasm* While every silhouette is not translated to the plus section, most are. The sizing goes up to Size 26W!! The con: I'm in Chicago and not a single store offer the plus sizes. Ugh... I still think the plus section shouldn't have been separated, but a girl can dream, can't she? I give the Plus section a 7.5.
Price point: I have yet to feel the fabric of the items, but sight unseen, the price point is very fair. I guess I still have a chip on my shoulder from AVA & VIV and their crappy quality to price point ratio. Not with Victoria. The plus sizes are not that much higher than the smaller sizes. These release is just in time for easter and I realize that's probably deliberate. I give it a 9.
Overall, this line get's a thumbs up with me. I will order one or two pieces and come back with a part 2. Go here and peruse around the collection. I have also shared my favorite Tell me what you think about the collection below.
Pros: Price point, size range, style diversity
Cons: No Plus sizes in store, separate plus from women's section
OVERALL SCORE:
8.3
*All pictures in this blog are courtesy of Target.com